13 Jun

The "Gardener" Game Concept

Hi! I'm Sam Ha and I'm the new Apprentice Web Developer here at Socially Bright. If you want to learn a bit more about me then check out this blog post.

…Now that's out of the way, let's get into why I'm here!

You've already seen the Gnomes that Daryl's been working on, but what point would there be in showing you that when you don't know what we're working on? So we've decided to have regular posts (maybe weekly) about the first Unity game I have had the chance to work on at Socially Bright. But first, let's take you back to when this was all just an idea.
Coming up with our concept
When we sat down to come up with an idea for the game, we had a discussion about how certain apps on the store receive popularity and downloads. We brainstormed a few of these games and talked about the overall concepts which made them consumer hits or just games that we liked to play.
Smash Hit is an extremely simple and aesthetically satisfying game which has you on-rails and shooting glass that gets in your way. The only thing the player does is tap to shoot metal ball bearings, making the game very simple and easy to engage with. Smash Hit also uses a very minimalist graphical style where the environment is a collection of geometrical shapes. The HUD (heads-up-display) is just as uncomplicated, only displaying how many balls you have left. The satisfying bit comes when you smash the glass with your balls, as they shatter and crumble with a pleasing crack.
I probably don't need to talk about Flappy Bird, but we should talk about why this became a worldwide phenomenon which had the developer take down his game because he couldn't deal with all the attention (read more here)! I think what makes Flappy Bird such an addictive game was again: simple controls and an easy mechanic - but, added with that is an extremely difficult learning curve. You have to get the bird through the holes by keeping the bird afloat by tapping. The difficult bit comes with keeping it aloft as the bird quickly falls down due to gravity. So we both have to control the bird's height by tapping as well making sure it clears the holes at varying heights.
Temple Run/Subway Surfers/Minion Rush are all games which share the same concept: see how far you can get whilst dodging obstacles. You swipe to control your movement and dodge to gain points and to survive as long as you can. They all have a very competitive edge as people can share their scores to compare with others and this is probably how they get most of their downloads.
So what is the common denominator that makes these games so popular? When we identified these core concepts, we wanted our games to have: simple controls (ideally just a thumb – to make the game easy to get into and play with one hand on the Tube), visual simplicity (to avoid confusing the player with numbers and floating text) whilst retaining satisfying visuals (to make it pleasing to the eye), and having an easy mechanic (to improve the game's lifetime and replay value).
And so we came up with:
The "Gardener" (working title)
In the Gardener, you play as a Gnome in a dead and barren world. Your aim is to get as far as you can, spreading life to as many patches of dead earth as you can. Slide under obstacles. jump over chasms and dodge cactuses by swiping. Run over patches of dead flowers to see them sprout up and gain bonus points and multipliers.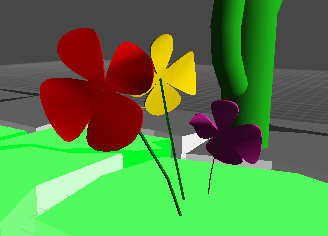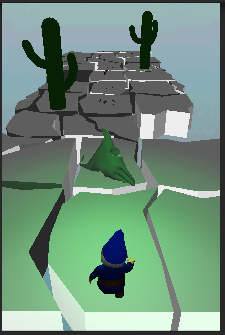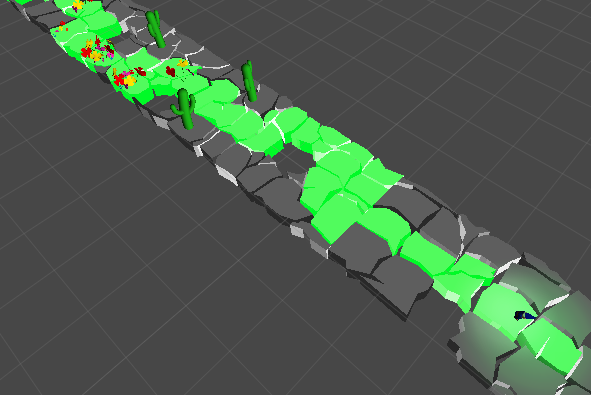 Join me next week as I'll go over the starting stages of the game…